Excel Bid Importer
This help topic is for Fuel Supplier Users
Bids can be imported from a special Excel template. This Excel template is different for each tender and is generated on demand for every fuel supplier.
Step 1: Download Excel Bid Importer Template
Step 2: Open the Excel Template
---
Open the template with your preferred spreadsheet editor.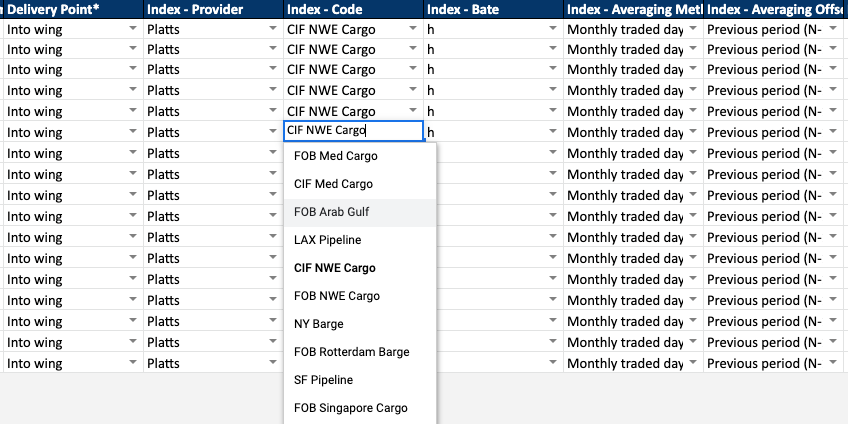 Step 3: Add Bid Information to the Template
---
Columns A to Q are informative and do not require any input from fuel suppliers. These columns define the initial preferences set by the airline.
Important: Please do not edit cells in columns A to Q. Changing information in these cells may lead to errors during tender import process.
Locations Sheet
Input requirements and limitations.
Title
Expected Input
Example
IATA
Do not edit
ICAO
Do not edit
Company
Do not edit
Contract Start / End Date
Do not edit
Fuel Type
Do not edit
Contract Volume
Do not edit
Monthly Volume
Do not edit
Preferred Units
Do not edit
Preferred Currency
Do not edit
Months of Service
Do not edit
Average Uplift
Do not edit
Preferred Delivery Point
Do not edit
Award Quota
Do not edit
Preferred Delivery to Airport
Do not edit
Preferred Delivery to Aircraft
Do not edit
Preferred Price Base
Do not edit
Preferred IATA Service Level
Do not edit
Bid Round*
Number
1
Open Invoice - Payment Terms
Number
1
Open Invoice - Payment Reference Date
Select from dropdown
Invoice Date
Open Invoice - Invoice Frequency
Select from dropdown
Weekly
Invoice Type
Select from dropdown
PDF Format
Prepayment - Number Of Days Prepaid
Number
30
Prepayment - Payment First Delivery Date
Number
14
Prepayment - Payment Frequency
Select from dropdown
Monthly
Prepayment - Amount
Number
100000
Payment Currency*
Select from dropdown
USD
Payment Unit*
Select from dropdown
USG
Method Of Payment
Select from dropdown
Contract
Guarantees Deposits Required
Select from dropdown
Yes
Payment - Exchange Financial Source
Select from dropdown
European Central Bank
Payment - Exchange Averaging Method
Select from dropdown
Daily
Payment - Exchange Averaging Offset
Select from dropdown
Previous period (N-1)
Supply Conditions Comments
Free text
Delivery Point*
Select from dropdown
Into wing
Index - Provider
Select from dropdown
Platts
Index - Code
Select from dropdown
CIF NWE Cargo
Index - Bate
Select from dropdown
h
Index - Averaging Method
Select from dropdown
Weekly trading days
Index - Averaging Offset
Select from dropdown
Previous period (N-1)
Index - Price Effective Date
Select from dropdown
Tuesday
Market Price - Amount
Number
4.561
Market Price - Currency
Select from dropdown
USC
Market Price - Unit
Select from dropdown
USG
Market Price - Source Type
Select from dropdown
Government
Market Price - Source Name
Text
Local Government
Differential Amount*
Number
0.0154
Differential Currency*
Select from dropdown
EUR
Differential Unit*
Select from dropdown
MT
Non-mandatory Fees
Free text
Into-plane Service Provider
Text
SkyFuels & Co
IATA Service Level
Select from dropdown
IATA Service level 1
Available Volume Percentage
Number
100
Gross or Net Billing
Select from dropdown
gross
Open Fuel Release
Select from dropdown
Yes
Pre-flight Notification Hours
Number
Pre-flight Notification Notes
Text
Ramp Limitations Notes
Text
Fuel Availability
Text
Delivery Method to Airport 1
Select from dropdown
Pipeline
Delivery Method to Airport 1 Percentage
Number or empty
80
Delivery Method to Airport 2
Select from dropdown or empty
Truck
Delivery Method to Airport 2 Percentage
Number or empty
20
Delivery Method to Airport 3
Select from dropdown or empty
Delivery Method to Airport 3 Percentage
Number or empty
Delivery Method to Airport 4
Select from dropdown or empty
Delivery Method to Airport 4 Percentage
Number or empty
Delivery Method to Aircraft
Select from dropdown
Notes
Free text
Both hydrant & truck